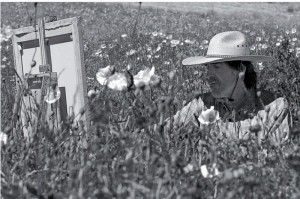 It inspires in me a vital need to express my feelings through painting.
Spread out on the palette, the colors prepare themselves to give birth to emotions on the white canvas.
The word is silent, passionately contemplating the landscape.
A palpitation that comes from nothing, enmeshed with yesterday, today and tomorrow.
That way it keeps on growing, like a blessing, a pentagram of colors, full of emotions.

While the journeys of the heart take place.

Of life, heartbeats, of vision, a language expressed in pleasures.
Without time to contain them.